Odisha and specifically Bhubaneshwar had been on my travel plan for many years. Even during my days as an executive in the corporate world, this was one of those cities that I never ended up visiting. I had always been intrigued by Odisha, though I must confess it was never on my radar until the turn of the last decade. My knowledge and understanding about the Odia people, their language and culture was limited but was thankfully resolved within the first hour of my arrival in Bhubaneshwar. I had watched in awe and with pride as the Honourable Chief Minister Naveen Patnaik went about positioning Odisha as a sports driven tourist destination that has some of the ancient wonders in the form of the Sun Temple in Konark, the Jagannath temple in Puri, the Lingaraj temple in Bhubaneshwar among more than 700 temples and then the Olive Ridley turtles of Gahirmatha, the abundance of wildlife and many historical, art and architectural marvels for us to enjoy.
The rapid world class development of sporting infrastructure that started with hockey and was followed by many other sports including athletics, swimming, badminton, tennis, rugby, football and cricket ensured that cities such as Bhubaneshwar, Rourkela and Cuttack firmly established themselves on the world's sporting map. Not just the major cities but even provincial strongholds such as Sundergarh now boast of three synthetic hockey turfs. Among the many hockey talents of our country, Dilip Tirkey former India Hockey international and now President of Hockey India comes from Sundergarh. No wonder Hockey India is now headquartered at the Kalinga stadium in Bhubaneshwar.
Odisha whose original name was Utkala, in the early medieval literature in Sanskrit "उत्कृष्ट कलायाः देशः यः सः उत्कलः " meant the land having excellent opulence of artists and art. Hence it was called Utkala where Kala is art and Ut (Utkrishta is excellent), thus the land of Utkrishta Kala – Utkala. That is why Rabindranath Tagore once said that in Konark, the Language of stones surpasses the language of humans. The warmth, simplicity, humility and the innate eagerness to help is perhaps a common unifying trait among all people in Odisha. It started with the driver who picked me up from the airport – Surya Prasad, a strapping six footer who apart from the local language could converse fluently in Hindi as well as English. He has entrepreneurial aspirations and given his knowledge and attitude, I won't be surprised when he achieves his goals soon. There is no "If" here but just a matter of time. In the first thirty minutes of our interaction, he helped me understand the cultural and political history of Odisha. He also made sure that I got my morning dose of a strong coffee after finding most of the Starbucks and other café chain stores yet to open for business. While I had given up on our pursuit for a good cup of coffee, he introduced me to the quaint and iconic Coffee Corruption Cafe attached to the Press Club of Odisha. I was confident enough with Surya's choice, that I ventured and ordered the Irish Coffee and it was as good as any Irish coffee that I have enjoyed outside the shores of India.
My first appointment of the day was with Odisha's premier sports journalist – Sambit Mohapatra. I had by then learnt to stop calling him Shombit and just staying with Sambit. My gross misunderstanding that Odia language and culture is an off shoot or close to Bengali was cleared by Surya Prasad. Over the last twenty years, Sambit has been covering Indian sports especially hockey, tennis, football and cricket with a lot of passion. His contribution in creating awareness of Bhubaneswar and Odisha as a sporting powerhouse and in showcasing the talent that our country has enjoyed from this understated region is unparalleled. To name a few, we have celebrated the talent and athletic prowess of Dutee Chand in track and field, Dilip Tirkey, Amit Rohidas, Sunita Lakra, Deep Grace Ekka and many more in hockey, Pramod Bhagat in para badminton, K Ravi Kumar in weightlifting, Pragyan Ojha and Debashis Mohanty in cricket. The list is fairly long for a blog to accomodate and do justice. We discussed the evolution of sports and sporting infrastructure in Odisha and the promise that the future holds. His assessment of Indian hockey and the way forward was an eye opener to me. More importantly he shared a very interesting insight on the Odia language whose script was written by a Maharashtrian gentleman, a scholar in the Marathi language.
My next stop was the Kalinga stadium premises. I was awestruck by the size, the scale and the attention to detail that the infrastructure had to offer. As I write this blog, the facilities continue to evolve and are being upgrade with a new dome shaped stadium for badminton along with an Olympic swimming pool that are under construction. Clearly the Odisha Government and especially the Chief Minister have a vision to ensure that India in the coming decades could be considered among the sporting juggernauts of the world. I won't be surprised that whenever India hosts the Olympic games, a large number of events will be hosted by this wonderful city. It is not just the infrastructure and the planning inside the stadium but even the roads and development in the city. The smaller roads are well paved unlike the disastrous roads in Mumbai. The main arterial roads are wide and clean with very clear road signs. And to top it, while I am on the road in Mumbai or Pune where I am reminded of the birthdays of every kind of politician, here I had no clue about any politician's birthday. It was a lovely sight to enjoy the uncluttered trees and structures and not get disturbed by obscene political posters.
By late evening, I called it a day and retired to a lovely homestay room that I had booked. The room was on the terrace of a building in a busy residential area and I could see a large part of the city as I sat enjoying my drink and soaking in what I had seen. After indulging in some sumptious Odia food, I blissfully slept anticipating another exciting day in Bhubaneshwar. The following day, since my meetings were in the afternoon, I decided to indulge in some sightseeing and my enterprising driver had scheduled a visit to the Sun Temple, the beach at Puri and finally the Jagannath Temple. The highway connecting Bhubaneshwar to Puri was another marvel but no longer a surprise anymore whenever you travel across India. I had a very interesting chat while gorging on some mutton curry rice at a road side dhaba. I was wearing my Nudge Sports (www.nudgesports.in) branded tee shirt and a gentleman sitting across me on a common table shared by all got chating, asking me whether I had come to visit the Kalinga stadium. I was pleasantly surprised to learn that he was a post graduate from Mumbai's JJ School of Arts and now pursing his passion as an artist at an art workshop near Puri. Introducing himself as Bhagwan Sahu, he not only helped me order the right food at the dhaba but made sure that the dhaba staff looked after me. We exchanged numbers and he shared some of his art on WhatsApp. His specialization is "Pattachitra". Absolutely stunning and I am looking forward to order some shortly.
Pattachitra is a traditional painting of Odisha. These paintings are based on Hindu mythology and deeply inspired by the Jagannath and Vaishnava sect. All colours used in the Paintings are natural and paintings are made in the traditional way by Chitrakaras (Painters). Pattachitra style of painting is one of the oldest and most popular art forms of Odisha. The name Pattachitra has evolved from the Sanskrit words patta, meaning canvas, and chitra, meaning picture. Pattachitra is thus a painting done on canvas, and is manifested by rich colourful application, creative motifs, and designs, and portrayal of simple themes, mostly mythological in depiction as you can see from the images below. The traditions of pattachitra paintings are more than thousand years old.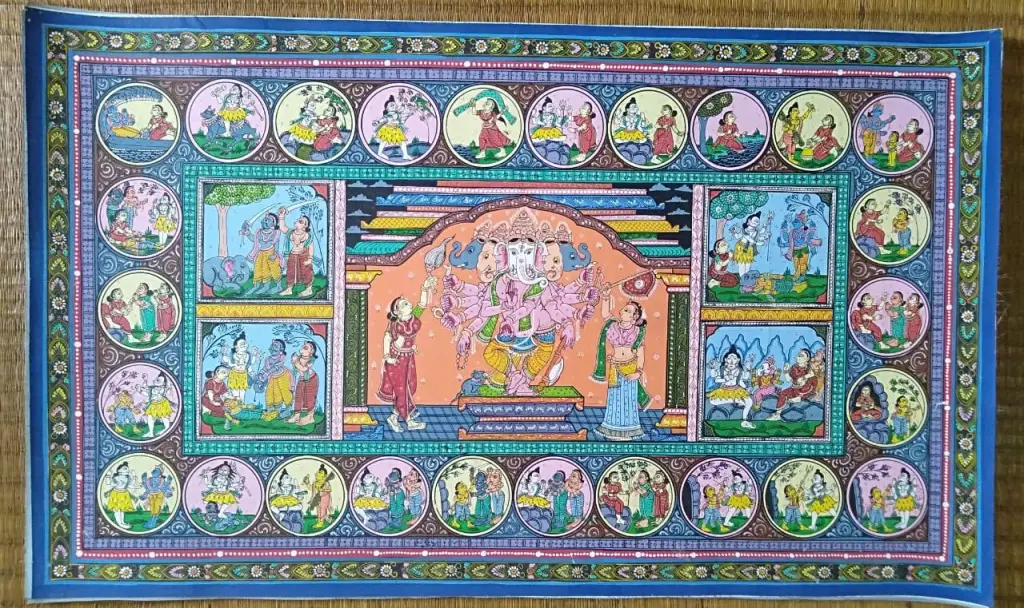 Across the table while I was chatting with Bhagwan, another gentleman, Abhisek who had overheard about Nudge Sports asked me if I could help his talented eighteen year old son who plays badminton. His son plays at a decent competitive level and has state ranking in both singles and doubles. He practices in Cuttack as well as in Bangalore at the Level Up Badminton Academy. Not just that, but to ensure that he is able to meet his own training expenses, he has taken up coaching. He wants to reach the next level of competition and is keen to go through mental conditioning sessions with us. Abhisek was candid enough to say that his son is physically very fit but is afraid when he gets on the court and ends up losing matches he should be winning. I spoke with the son after I got back to Mumbai and was happy to learn that he is eager to undergo a few sessions with a sport psychologist. It was so heartening to see the enthusiasm of this father-son duo and also the clear career path that the kid shared with me. He wants to do his MBA and then work in the field of sports.
On the last evening and before I headed back to the airport, I had a fascinating interaction with the Odisha FC women's team and their coaching and support staff. More than half the girls come from the tribal belt in Odisha and are supremely talented and hungry to succeed. In fact, a few from the team are already in the India football squad or on the fringes. Their commitment to play football and build a career for themselves is perhaps the story that every athlete in Odisha dreams about. This dream is not far from reality because of both the hard and soft infrastructure that has been created in Odisha. The desire to succeed and think big is something I experienced even with the local support staff, be it their strength and conditioning coach, nutritionist or their manager. They are able to dream, dream big and have clear goals not just to succeed in their sport but to contribute to the larger development of Indian sport. And these dreams are not far from reality. All because of the vision of a progressive government backed with the right support from private enterprises and Indian internationals such as Abhinav Bindra.
Now I am looking forward to visiting Rourkela to see the Birsa Munda International Hockey Stadium which hosted the recently concluded Hockey World Cup. Odisha without a doubt is the Soul of Sports in India and "India's Best Kept Secret".
This blog is dedicated to my mentor late Pradipto Mohapatra popularly known as PKM. He was the Managing Director at Spencers Retail and Zensar as well as on the board of RPG Enterprises when I first met him. His values, insights, vision and humility have always guided me ever since. Miss his presence.