"Mental toughness is when you can find fuel in an empty tank". Rafael Nadal's record breaking win over Daniil Medvedev last Sunday was a classic case of mind over matter especially when the match entered the fifth and the deciding set. A thirty five year old playing "with" a major career threatening left foot injury and several other injuries that his body had endured over eighteen years of playing on the tour was battling the Russian who was confident, injury free and in red hot form. What we witnessed was nothing short of a modern day miracle. Even Rajnikanth and his fans may perhaps agree reluctantly to play second fiddle to Nadal who displayed amazing resilience, endurance and unrelenting willingness never to give up. It finally came down to how strong Nadal was mentally as he was confident his physical strength will carry him through the more than five hours of slugfest.
Over the last several months, words like "sport psychology", "mental strength", "mental health" and "mental training" have hogged the highlights of the sports pages. Perhaps many of you may be surprised to know that the ice cool master – Roger Federer worked with a sport psychologist early in his career. Federer as a teenager had major self-control issues, losing matches he should have won and unable to make that big breakthrough. This was in early 1998, when his parents and coach decided to hire the Basel based Christian Marcolli as his sport psychologist. Marcolli, a twenty five year old who had played professional soccer in Switzerland, including three seasons with Federer's favourite club FC Basel was studying for his Masters in performance psychology at the University of Basel when he started helping Federer. The objective was to provide Federer with some tools to change his patterns and manage his emotions more systematically, especially when the matches got tight. Federer was not the first big name to use the services of a sport psychologist. Ivan Lendl had worked with one to help him with visualization and self-talk, key tools of sport psychology that help in performance enhancement. As we all know tennis is a lonely and a brutal sport with huge downtime between points which allows your mind to go astray. Federer worked with Marcolli for two years and the tools that he acquired allowed him to shift into a higher gear. He immediately started wining and the rest is history.
We are talking about 1998-2000, when hiring a psychologist was seen as a sign of vulnerability and weakness even in evolved and sports mature countries of Europe and the US. Not anymore. We now have Iga Swiatek, the 2020 French Open champion who has a full time sport psychologist in Daria Abramowicz who sits in the player's box and works along with the other coaching staff that include the strength and conditioning coach, physiotherapist, nutritionist and the head coach. In India unfortunately, the coaching staff has all of the above with the exception of a sport psychologist. Even the larger private enterprises that have invested in the development of medal winning elite athletes put the sport psychologist at the bottom rung; more as an after-thought. But things are changing. Many athletes, even younger athletes in the age group of 12 to 16 years are working with sport psychologists. They have made mental training an integral part of their overall training program. They are now using the psychologist's inputs during and after training; before, during and after competitions. It's a start but yes, we have a long way to go.
Mental strength is a huge factor. Tim Henman was commentating for Eurosport, and the former British No 1 said that his perfect composite player would combine the movement of Novak Djokovic, the style of Roger Federer in making it all look so easy and Nadal's attitude. It's this positive attitude; an attitude to never give up that every athlete can develop. As Novak Djokovic has said that among the top 100 players on the tour, physically there is very little difference; what separates the best from the rest is their mental strength, their ability to win the crucial points, their ability to win in tight situations. All this is possible only if you work on training and conditioning your mind. Sport has become very data driven, but for all the data, any tennis match remains a step into the unknown. "In football, a player can moderate his energy knowing how long is left, in tennis, a player starts a game not knowing where the end is. That makes the psychological element so vital." This statement appeared in an article in the Sunday Times, UK after Nadal won.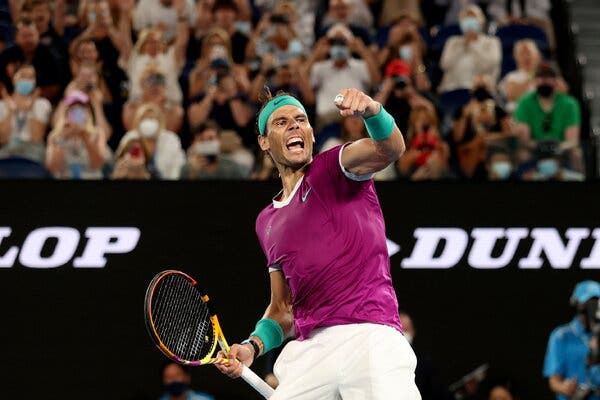 I would like to conclude this blog with an interesting concept developed by the legendary American basketball coach and player John Wooden. Nicknamed the "Wizard of Westwood", he won ten NCAA – National Collegiate Athletic Association national championships in a twelve year period as head coach for the UCLA Bruins. This included a record seven in a row. Wooden developed the "Pyramid of Success" shown below. And one of his insights was to instill enthusiasm in training and competition. He believed that enthusiasm acts like a catalyst that makes all the other attributes of a champion's mind work better. Persistence, to take one important example is so much easier when you're enthused about what you're doing. Sticking with something you love is like cycling downhill. Sticking with something you don't love is like cycling uphill. What Nadal showed us last Sunday was his exuberance and enthusiasm that came to the fore and rescued him every time he fell behind!
Let's build this enthusiasm in our daily lives and make it better not just for us but also the others around us. Sport psychology is based a lot on John Wooden's Pyramid of Success and this applies not just to sport but all walks of life.
We at Nudge Sports offer mental training programs for athletes across all sports. With our panel of sport and performance psychologists who have worked with athletes across all ages and sports, Nudge Sports aims to make mental training an integral part of the athletes training program. Do visit www.nudgesports.in for more information. Remember, "You have to be a legend in your mind before you can be a legend in your time". Jack Nicklaus, American Golf legend
Recommended reading: How Champions Think – Dr. Bob Rotella